Refresh Your Body and Soul at Yoga Class near Sapporo JR Station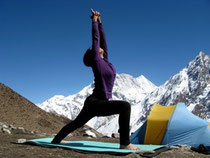 A Thai Yoga instructor with many years of experience in and around Sapporo, who teaches Yoga to match each student's level.
Take Yoga into your life and stay stress-free.
 
Bhavana's Yoga lessons help you strengthen your body and mind. Why? Because each lesson includes not only Yoga poses and breathing exercises, but also whole body relaxation, meditation, and philosophy.
 
Convenient access and the class exchange system make it easy for busy people to continue the lessons. Bhavana Yoga class can be taught in English.
Date:     Monday  3.00 - 5.00 pm.
             Wednesday 7:00-9:00pm
             Thursday 1:00-3:00 pm
             Friday 3.00-5.00 pm
             Friday 6:30-8.30 pm 
Location: Hokkaido Thailand Club
               Balm Haitsu 902, Kita-7, Nishi-1, Kita-ku, Sapporo  tel. 011-747-4690
  *Three-minute walk from the east exit of Sapporo JR Station
  (next to Hotel Sunroute)

Tuition:
 ●Regular membership
    Monthly fixed fee
       Hokkaido Thailand Club (HTC) member 5,000yen/month
                  *Annual fee to be a member of HTC is 2,000yen/year
       Non-member 5,500yen/month
       For regular members you can come as many times as you like.
 ●Non-regular membership
      HTC member 1,500yen/lesson, Nonmember 1,700yen/lesson 

       *You have to join either as a regular or non-regular member.
        You cannot change your status month by month.
        If you have any unavoidable reasons for missing lessons,
        please contact the instructor.
Lessons in Ebetsu are also offered.
 
 Instructor: Wanida (Sivananda TTC certificated, trained in India)
 Vivekananda Yoga Anusandhana Samathana International  certificated (VYASA, INTL)